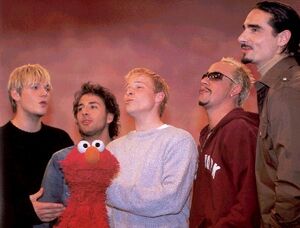 The Backstreet Boys are a popular singing group who have been active since the late 1990's. They made a guest appearance in a 2002 episode during Season 33 of Sesame Street to sing "One Small Voice" with Elmo.
One of their members, Nick Carter, also appeared on Sesame Street with his younger brother Aaron Carter.
The band was referenced on the Mopatop's Shop episode "Mopatop of the Pops" with the bunny band, the Backstreet Bunnies.
External links
Ad blocker interference detected!
Wikia is a free-to-use site that makes money from advertising. We have a modified experience for viewers using ad blockers

Wikia is not accessible if you've made further modifications. Remove the custom ad blocker rule(s) and the page will load as expected.