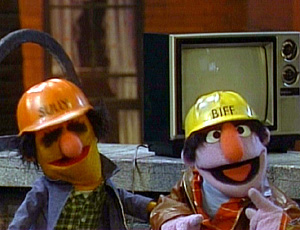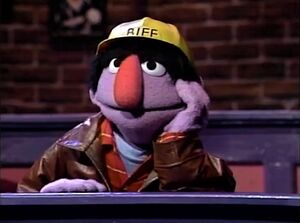 Biff is a construction worker on Sesame Street who speaks with a gruff New York accent. His partner is Sully. Biff first appeared in Season 5,[1] and made periodic appearances through Season 30.
Biff often asks for Sully's opinion, but interrupts him before Sully gets a chance to even make a sound. He also tends to ask him questions and then eggs Sully on by repeating, "Huh? Huh? Huh?", a reference to a routine by comedy duo Burns and Schreiber. As performer Jerry Nelson said in an interview, "Sully wasn't so much Schreiber, but Biff was the Jack Burns character."[2] Biff often has trouble figuring out how to perform various tasks, and by the time he's figured it out, Sully has already finished it.
Biff has a niece named Roxy Marie. According to a 1989 episode, he also has four kids, one of whom is the infant Mary-Biff. In the song "Five Feet High and Rising," he mentions that he's married to a woman named Ethyl, but in a 1994 episode, his wife's name is Celeste.
He has sung songs such as "We Coulda," "Think of Your Fingers," "This Song is For the Birds," and appeared in "Do De Rubber Duck." He also appeared with Judy Collins in the song "One Thing Leads to Another," and with Johnny Cash in "Five Feet High and Rising."
Two construction worker Anything Muppets who looked similar to Biff and Sully made background appearances in the "Outrageous Makeover: Home Addition" sketch. (First: Episode 4132)
The duo made a background cameo in episodes 4204 and 4712.
A similarly named construction foreman, Bif, exists off-screen.
Filmography
Book appearances
Sources
↑ The Deseret News: 1...2...3...4...5 for Sesame St.
↑ Nelson, Jerry Tough Pigs interview
Ad blocker interference detected!
Wikia is a free-to-use site that makes money from advertising. We have a modified experience for viewers using ad blockers

Wikia is not accessible if you've made further modifications. Remove the custom ad blocker rule(s) and the page will load as expected.