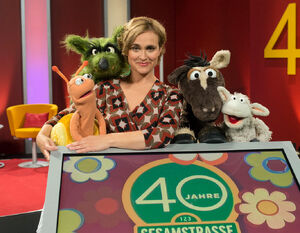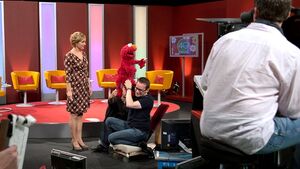 Die lange Sesamstraßen-Nacht (The Long Sesame Street Night) was a special Sesamstrasse programming night that aired on January 12, 2013, on NDR. The night commemorated the show's 40th anniversary with a newly produced framing program, episodes and documentaries. The program aired from 11:40 PM until 3:15 AM.
Hosted by Caren Miosga, the program featured appearances by Elmo, Wolle, Pferd, Cookie Monster (actually Caren Miosga under a magic spell), Finchen, a wolf, and chickens.
Program:
External links
Ad blocker interference detected!
Wikia is a free-to-use site that makes money from advertising. We have a modified experience for viewers using ad blockers

Wikia is not accessible if you've made further modifications. Remove the custom ad blocker rule(s) and the page will load as expected.