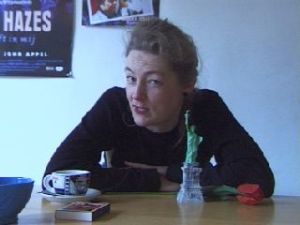 Dree Andrea is a writer, artist, and director who cowrote the dialogue for some of the Dutch Bert and Ernie albums. She also performed the voices of Aunt Coleta in He He He, We Maken Muziek and Mrs. Karperzooi in In Een Uur de Wereld Rond.
A self-taught filmmaker, she has directed three acclaimed documentaries examinining aspects of life in New York City, including The Tunnel (1994), about the Amtrak tunnel; All Visitors Must Be Announced (1997), about the role of apartment doormen (with Ed Koch amongst the interviewees); and Mr. Right (2005), about the New York singles scene.
External links
Ad blocker interference detected!
Wikia is a free-to-use site that makes money from advertising. We have a modified experience for viewers using ad blockers

Wikia is not accessible if you've made further modifications. Remove the custom ad blocker rule(s) and the page will load as expected.