Finchen is a character on Sesamstrasse, the German co-production of Sesame Street.
Appearance
Finchen is an orange snail with a yellow shell (with a tint of orange) on her back. She also wears glasses.
Personality
Finchen loves to ride her skateboard around Sesamstrasse and has a really wild imagination. However, Finchen can be serious at times.
She represents the psychological age of a three year old and is friends with Samson, Tiffy, Uli von Bödefeld, Rumpel, Wolle, Pferd, Feli Filu and Sesamstrasse's other residents.
History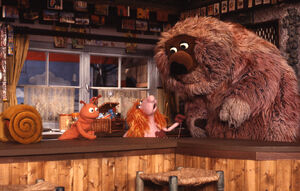 Finchen was added to the Sesamstrasse cast after Samson and Tiffy (1983) as a male character. He started as a weak, tiny snail who lived in the forest, right outside Sesamstrasse. The character didn't always wear his glasses in the beginning, but had a row of decorative buttons running down the front of his body.
During the early 1990s Finchen was inexplicably turned into a younger girl character with a really wild imagination, representing the psychological age of a three year old.
The sex change
The sex change might have something to do with the fact that "Schnecke", the German word for snail and slug, is a female word in the language, succeeded by the definite article "die". Another reason might be that Finchen's original performer was male puppeteer Lothar Klose. At that time, Finchen did not always wear the glasses, and literally came out of his shell more often.
He also sounded more masculine when Finchen's second puppeteer Wilhelm Helmrich took over performing duties from 1989 until 1991.
As female puppeteer Uta Delbridge took over the role in 1992, Finchen's personality became more frightful and he/she began to speak with a softer voice.
Ever since 2000, Finchen has been performed by her fourth performer, singer and female puppeteer Andrea Bongers. The character is only ever referred to as "she" anymore.
Trivia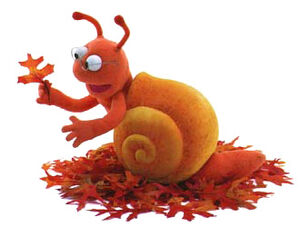 Because Finchen had joined the Sesamstrasse cast for only one season in 1983, and no new episodes were produced from 1984 to 1989, constant reruns and re-edits of the episodes during that time frame made it appear as if the snail was a rare, special character to be featured on the show.
Members of the American audience might remember Finchen from the 1993 international special Sesame Street Stays Up Late.
The puppet is a hand-rod Muppet.
A snapshot of Finchen is seen in the "More Ways to Give" box in Sesamestreet.org's donation page.
Finchen is a recurring character on Eine Möhre für Zwei.
On an Eine Möhre für Zwei coloring page on NDR's website, a caption of a PDF coloring page with Finchen reading a book says that Finchen is smart because she reads so much.
See also
Ad blocker interference detected!
Wikia is a free-to-use site that makes money from advertising. We have a modified experience for viewers using ad blockers

Wikia is not accessible if you've made further modifications. Remove the custom ad blocker rule(s) and the page will load as expected.