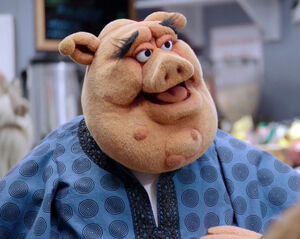 Howard Tubman is a member of America's oldest and fattest family, the Tubmans of Porksmith. He was featured with his butler Carter in the recurring sketches The Tubmans of Porksmith and Boarshead Revisited on Muppets Tonight.
Howard later served as the Muppet Theater's choreographer, as seen in It's a Very Merry Muppet Christmas Movie. In a world in which Kermit was never born, Howard was seen as choreographer of the Electic Mayhem's river dance act. He and Carter also make cameo appearances in Muppets Most Wanted.
He had his first speaking role since 2002 in The Muppets episode, "Because... Love," where he's shown to represent several Muppet music groups (including Geri and the Atrics, Bobby Benson's Baby Band, Marvin Suggs and The Muppaphone, and Mahna Mahna and the Snowths).
The Howard Tubman puppet was first seen as one of the wild boars in Muppet Treasure Island.
An illustrated version of the character made a brief cameo in issue #4 of Muppet Snow White. He also has his own page in The Muppets Character Encyclopedia.
Ad blocker interference detected!
Wikia is a free-to-use site that makes money from advertising. We have a modified experience for viewers using ad blockers

Wikia is not accessible if you've made further modifications. Remove the custom ad blocker rule(s) and the page will load as expected.