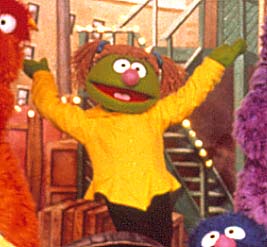 Jodie is a character that was created exclusively for Sesame Street Live; she has never appeared on Sesame Street.
This character from 1-2-3 Imagine! and later Big Bird's Sunny Day Camp Out has a dark lime shade of skin, and has brown-coloured hair in pigtails. The character was performed on stage by Yram Rivera in the Camp Out show.
She is outgoing, flamboyant and a people person, and is dressed in a yellow dress.
See also
Katie, a Sesame Street Live-only Anything Muppet walk-around
Ad blocker interference detected!
Wikia is a free-to-use site that makes money from advertising. We have a modified experience for viewers using ad blockers

Wikia is not accessible if you've made further modifications. Remove the custom ad blocker rule(s) and the page will load as expected.