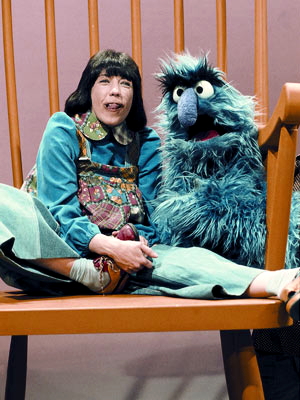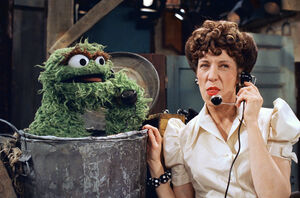 Lily Tomlin (b. 1939) is an actress and comedienne who made her first television appearance in 1969 on The Merv Griffin Show. Her extensive film credits include Nine to Five (with Dolly Parton and Jane Fonda), All of Me (with Steve Martin), and Nashville, for which she received an Academy Award nomination for Best Supporting Actress. Tomlin received a Tony Award as Best Actress in a Play in 1986 for The Search For Signs of Intelligent Life, a one-woman Broadway show written and directed by her partner, Jane Wagner. Tomlin is also known for her role as the voice of Ms. Frizzle ("The Frizz") on The Magic School Bus.
Tomlin has appeared with the Muppets frequently, not only as herself, but also as two characters she made famous on the television show Laugh-In: Ernestine, a gum-chewing, wisecracking, snorting telephone operator whose famous line was "One ringy dingy, two ringy dingy;" and Edith Ann, a five-year-old child often seen in an oversized rocking chair making rude noises.
Among Tomlin's more recent roles is Deborah Fiderer, the President's personal secretary on the later seasons of NBC's The West Wing. On one episode, she appeared in character with the Sesame Street Muppets.
Appearances
Appeared in a few Sesame Street inserts as her little girl character, Edith Ann. One such skit teamed her with Herry Monster to discuss pride. Other Edith Ann segments include monologues on counting to 5 (or the refusal to do so) and the art of sandwich preparation. (1975)
Guest starred as Ernestine on Sesame Street Stays Up Late PBS special. Tomlin appears in her Ernestine persona as a telephone operator who serves as a conduit through which Oscar speaks with his family. (1993)
Appeared as Deborah Fiderer in an episode of The West Wing that featured the Sesame Street Muppets. (2004)
Sources
↑ The Street We Live On timeline, broadcast version
External links
Ad blocker interference detected!
Wikia is a free-to-use site that makes money from advertising. We have a modified experience for viewers using ad blockers

Wikia is not accessible if you've made further modifications. Remove the custom ad blocker rule(s) and the page will load as expected.