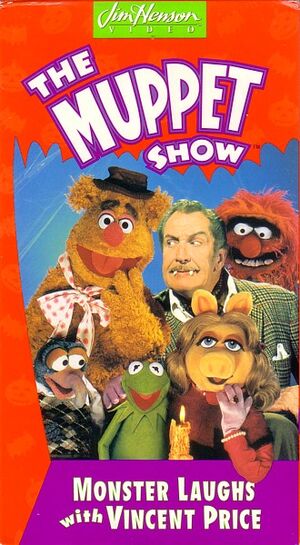 Monster Laughs with Vincent Price was released on the Jim Henson Video label in 1994. The video included two Halloween-themed episodes of The Muppet Show, episode 119 starring Vincent Price and episode 307 starring Alice Cooper.
This was the first video release to include full episodes of The Muppet Show; all prior Muppet videos had been compilations.
The ending credits sequence for episode 119 features a new voice-over by Kermit the Frog, in which he announces that another episode will be on shortly.
Edits
The following scenes were cut from the episodes:
Episode 119: Vincent Price
Episode 307: Alice Cooper
The fade to black at the end of the closing number
Ad blocker interference detected!
Wikia is a free-to-use site that makes money from advertising. We have a modified experience for viewers using ad blockers

Wikia is not accessible if you've made further modifications. Remove the custom ad blocker rule(s) and the page will load as expected.