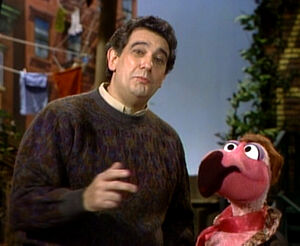 Plácido Domingo (b. 1941) is a tenor, world-renowned as one of the Three Tenors.
In the 1982 special Night of 100 Stars, Plácido Domingo and Miss Piggy appear together on stage. Piggy, distraught when he arrives, pines for her absent frog Kermit, as she is "no good at these minor functions without him." She begs Domingo to impersonate Kermit. The opera singer comforts her with a rendering of "Sometimes a Day Goes By," and Piggy joins in for a passionate duet.
In 1989, Domingo performed a duet with his Muppet counterpart, Placido Flamingo, in the TV special Sesame Street: 20 and Still Counting.
Domingo contributed a "Creme Chocolat" recipe for Miss Piggy's 1996 cookbook, In the Kitchen with Miss Piggy.
During a January 3, 2007 appearance on Late Night with Conan O'Brien, Domingo talks about performing with Placido Flamingo.
External links
Ad blocker interference detected!
Wikia is a free-to-use site that makes money from advertising. We have a modified experience for viewers using ad blockers

Wikia is not accessible if you've made further modifications. Remove the custom ad blocker rule(s) and the page will load as expected.