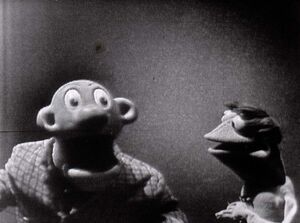 Sam is the title character of Sam and Friends, the only non-abstract human character on the show. He never spoke, but would lip-sync to popular music and comedy records of the time. He was built in October 1954[1] using papier-mâché materials.
The only surviving Sam and Friends episode in which he appears, involves a routine in which he lip-synchs to "Old Black Magic" with an early Kermit. According to that skit, Sam's wardrobe is courtesy of Hialeah Racetrack.
Sam was one of the few characters with a rigid face. Most of the other characters had flexible features that were more conducive to the close-up medium of television.
In addition to Sam and Friends, Sam has made appearances on Mac McGarry's In Our Town,[1] Footlight Theatre,[2] and Today. Sam made a comeback appearance, along with Yorick and Harry the Hipster, in The Muppets: A Celebration of 30 Years.
See also
Sources
↑ 1.0 1.1 The Sunday Star, page 5, March 29, 1959, pictured at Jim's Red Book - 1/27/1975 -'Go to Washington put 1st Bert and Ernie in Smithsonian - dinner with Joe Irwin'
↑ Imagination Illustrated Page 17
Ad blocker interference detected!
Wikia is a free-to-use site that makes money from advertising. We have a modified experience for viewers using ad blockers

Wikia is not accessible if you've made further modifications. Remove the custom ad blocker rule(s) and the page will load as expected.