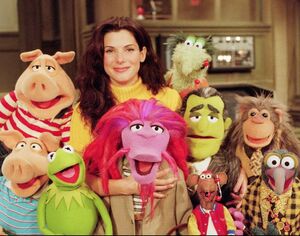 Sandra Bullock (b. 1964) is a film actress who has starred in Miss Congeniality, While You Were Sleeping, Speed, and The Net. She won the 2009 Academy Award for Best Actress, for her role in The Blind Side.
She guest starred on episode 107 of Muppets Tonight. One sketch spoofed While You Were Sleeping with a Muppet version, "While You Were Slapping," and in another Bullock performed a version of "Mahna Mahna" retitled "Phenomenon."
External links
Ad blocker interference detected!
Wikia is a free-to-use site that makes money from advertising. We have a modified experience for viewers using ad blockers

Wikia is not accessible if you've made further modifications. Remove the custom ad blocker rule(s) and the page will load as expected.