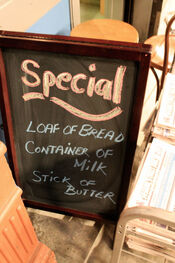 Hidden Gems are special, fan-geared throwbacks to classic Sesame Street moments, including characters and staff seen during the street scenes of the 40th Anniversary season.
In a 2009 interview by the fansite Tough Pigs, head writer Joey Mazzarino promised:
"

We're trying to do what we call a gem in every episode. That's for you guys, the fans. Little things like Biff and Sully in a scene, or some other stuff that I won't tell you about that will be hidden in the scene. There's one, the writing on the sandwich board outside of Hooper's Store reads, "Loaf of bread / Container of milk / Stick of butter". We'll try to get one of those in most of the episodes this season.[1]

"
The graphic-based gems were designed by Pete Ortiz.[2]
See also
Sources
↑ Hennes, Joe. "A Chat with Joey Mazzarino, part 2", ToughPigs.com. February 25, 2009.
↑ Sesamestreet.org Episode Guide from 2009 (archive site link)
Ad blocker interference detected!
Wikia is a free-to-use site that makes money from advertising. We have a modified experience for viewers using ad blockers

Wikia is not accessible if you've made further modifications. Remove the custom ad blocker rule(s) and the page will load as expected.