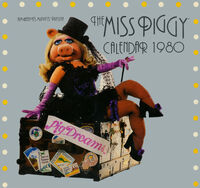 The Miss Piggy Calendar 1980 was published in 1979 by Abrams Art Papers with the Muppet Press. The concept was designed and directed by Michael K. Frith with Frank Oz serving as creative consultant, and photos by Nancy Moran and Donal Holway. Miss Piggy's wardrobe was provided by the House of Calista.
This was the first of five calendars featuring Miss Piggy as the star. Throughout the calendar, an interview with Miss Piggy is conducted and various fake landmarks in her career are given on specific dates.

Ad blocker interference detected!
Wikia is a free-to-use site that makes money from advertising. We have a modified experience for viewers using ad blockers

Wikia is not accessible if you've made further modifications. Remove the custom ad blocker rule(s) and the page will load as expected.