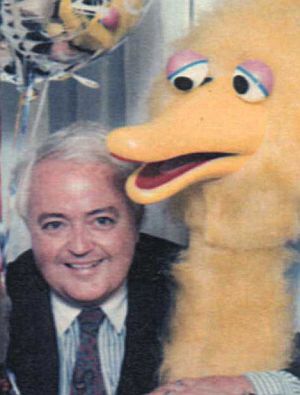 Tom Cooke (1936-2014) illustrated dozens of Sesame Street books, as well as books featuring the Muppet Babies, Kermit the Frog, and Muppet Kids, among others. Originally, his artwork had the characters in strong ink drawings and realistic fur textures. In the mid-1980s, his illustration technique changed to a softer look, but with the same designs and fur textures. His illustrations of Herry Monster depict him in purple pants with orange spots, rather than the white and pink-striped pants favored by other artists.
Cooke's other credits include illustrating many storybooks featuring the Care Bears. In 1994, Cooke suffered a stroke which only allowed him to use his right hand. As a result, Cooke shifted his artistic focus and established himself as an acrylic painter.

Gallery
More illustrator credits
External links
Ad blocker interference detected!
Wikia is a free-to-use site that makes money from advertising. We have a modified experience for viewers using ad blockers

Wikia is not accessible if you've made further modifications. Remove the custom ad blocker rule(s) and the page will load as expected.