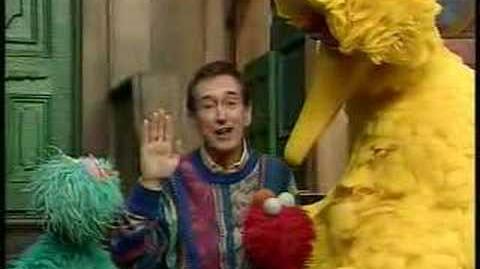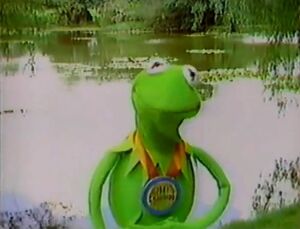 UNICEF (the United Nations Children's Fund) is a United Nations organization that provides long-term humanitarian and developmental assistance to children and mothers in developing countries.
Connections
In the 1970s, Big Bird "visits with the children [at a UNICEF event in New York] and discusses Halloween with them." [1]
In 1980, Kermit was named Chairfrog of UNICEF's fundraising campaign. Part way in, response to fundraising was said to be better than any previous year. "I've never done anything this serious before. But it's a good cause. It helps children all over the world. I think there should be more chairfrogs of all organizations. I'm all for frogs getting positions like this." The Muppet Show Fan Club Newsletter wrote about it in Volume 3, Number 1.
Bob McGrath, Elmo, Big Bird, and Rosita did a PSA for UNICEF's "Say Yes to Children" campaign.
Rosita did a Spanish PSA for UNICEF.
Kosovo Sesame Street co-production Rruga Sesam — Ulica Sezam was a joint initiative that included UNICEF.
1990: Kraft marshmallows feature coupons for Muppet Babies videos to benefit UNICEF.
1996: UNICEF 50th Anniversary tribute to Jim Henson.
1997: TNT tapes a special called A Gift of Song, to benefit UNICEF; Elmo appeared.
2003: For Sesamstrasse's 30th anniversary in January, the show donated € 12,271.00 to UNICEF. Attending the press conference were boxer Axel Schulz, the German Sesame Muppets, Ernie, Bert and Elmo (performed by Kevin Clash).
2003: In November, Takalani Sesame character Kami was named a global "Champion for Children" by UNICEF.
2005: Kami, Roger Moore, and Whoopi Goldberg appear in an ad campaign about the impact of AIDS on children.
2006: Annual Sesame Workshop Benefit Gala honours Ann M. Veneman, Executive Director of UNICEF, for her commitment to reducing poverty, malnutrition and disease, and protecting children from abuse and violence. (YouTube)
2006: Former President Bill Clinton appears in a UNICEF PSA with Kami. (YouTube)
2008: DVD Espinete y Don Pimpón released in support of UNICEF features 40 episodes of Barrio Sésamo.
Ad blocker interference detected!
Wikia is a free-to-use site that makes money from advertising. We have a modified experience for viewers using ad blockers

Wikia is not accessible if you've made further modifications. Remove the custom ad blocker rule(s) and the page will load as expected.