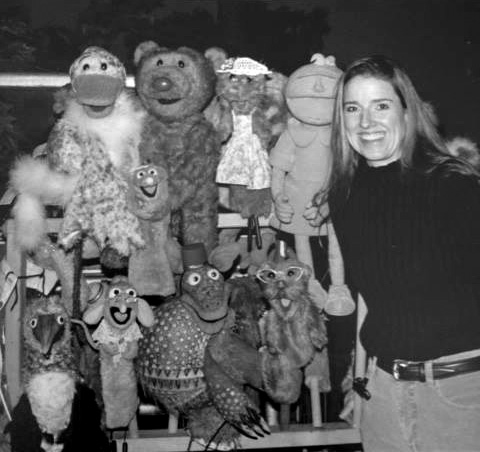 Vicki Kenderes-Eibner, sometimes credited as Vicki Eibner, is perhaps most noted for her work on the Disney/Jim Henson collaboration Bear in the Big Blue House, where she performed ten characters including Ojo, Etta Otter, Grandma Flutter and Lois. In addition to Bear, Kenderes-Eibner's work has been seen on Sesame Street, The Wubbulous World of Dr. Seuss, The Book of Pooh, Nickelodeon and the Discovery Channel.
Kenderes-Eibner was also a producer for the "What Do You Think?" segments on Bear in the Big Blue House, as well as the Bear Sing Along Video. Two shows in Florida, earlier in her career, earned her five Cable Ace awards in both performance and as a producer.
A long time advocate of children's safety, Kenderes-Eibner has created public education programs to train and inform people of all ages about fire, swimming, bicycle and car seat safety. As a part time resident of New Orleans, she has also worked to raise awareness of the assistance that the Gulf Coast region still needs. She has volunteered her puppet Suzie at various shelter's in New Orleans and the Children's Hospital of New Orleans.
Muppet/Henson Credits
Other Credits
Nickelodeon, The Travel Channel
Sources
Ad blocker interference detected!
Wikia is a free-to-use site that makes money from advertising. We have a modified experience for viewers using ad blockers

Wikia is not accessible if you've made further modifications. Remove the custom ad blocker rule(s) and the page will load as expected.