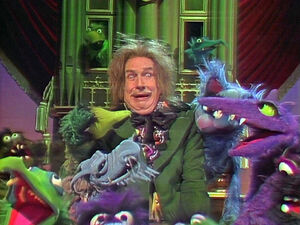 Vincent Price (1911-1993) was a popular actor who appeared in many classic horror movies. He was the guest star on episode 119 of The Muppet Show.
He was also a guest when the Muppets hosted The Tonight Show in 1979, and he made a cameo appearance in the special The Muppets Go Hollywood.
In the early 1990s, the Muppet character Vincent Twice appeared on Sesame Street, spoofing Price's recent stint as host of the PBS series Mystery!
Price's film credits include House of Wax (1953), House of Usher (1960), The Pit and the Pendulum (1961), The Abominable Dr. Phibes (1971) and Tim Burton's Edward Scissorhands (1990). He also voiced the villain Professor Ratigan in Disney's The Great Mouse Detective (1986), and Zigzag from The Thief and the Cobbler (1993).
In addition to acting, Price was a gourmet chef, writing extensively on the subject and hosting television cooking shows in the 1970s and 1980s.
Price died of cancer on October 25, 1993.
External links
Ad blocker interference detected!
Wikia is a free-to-use site that makes money from advertising. We have a modified experience for viewers using ad blockers

Wikia is not accessible if you've made further modifications. Remove the custom ad blocker rule(s) and the page will load as expected.