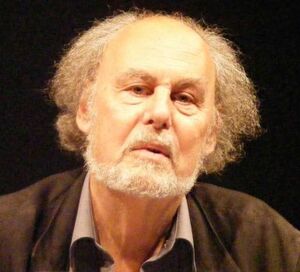 Volker Ludwig (b. 1937 as Eckart Hachfeld) is a German playwright, writer, and lyricist specializing in children's media. He worked with Sesamstrasse from the beginning in 1973, writing lyrics ("Der, die, das" etc.) to the theme song. He adapted the lyrics of Sesame Street songs into German, most notably "Rubber Duckie," as well as "Roosevelt Franklin Counts" and the Muppet versions of "If I Knew You Were Coming I'd've Baked a Cake," "Yellow Submarine," and "An Octopus' Garden."
Ludwig wrote for the cabaret group Die Stachelschweine (including Dieter Kursawe) and for the German comedy series Hallo Nachbarn! . In 1969, he founded a children's theater, later renamed GRIPS Theater in 1972, for which he wrote many plays, songs, and was artistic director until 2010. Several of his musical plays were released on albums.
External links
Ad blocker interference detected!
Wikia is a free-to-use site that makes money from advertising. We have a modified experience for viewers using ad blockers

Wikia is not accessible if you've made further modifications. Remove the custom ad blocker rule(s) and the page will load as expected.